Promoting a shared vision of profitable waste sorting.
Pioneering tech provider Recycleye wanted to underpin its proposition and build credibility in a traditionally conventional market. So it asked Design Motive to create a powerful positioning with a real commercial edge. The result is a bold move that signifies a coming of age for the brand.
As a start-up moving into growth phase, Recycleye knew that to attract new talent and more substantial clients, it needed to be able to convey credibility and the game-changing commercial potential of its proposition. While still holding onto the spark of its young engineer founders, who'd already caught the interest of heavyweight ESG investors.
Recycleye uses a pioneering AI-powered vision system and ultra-reliable robotic pickers to reinvent the economics of recycling. Its technology helps material recovery facilities optimise and modernise in an ultimately efficient and productive way. Because when waste sorting is viable and profitable, it benefits businesses, wider society and the planet too.
We positioned the Recycleye brand to clearly encapsulate that aspiration and purpose, gathering everything together in a much more professional, connected, credible way. It motivates and aligns the team internally, inspiring continual innovation and attracting fresh talent, while also enhancing existing client relationships and enabling the company to go to market to win new business.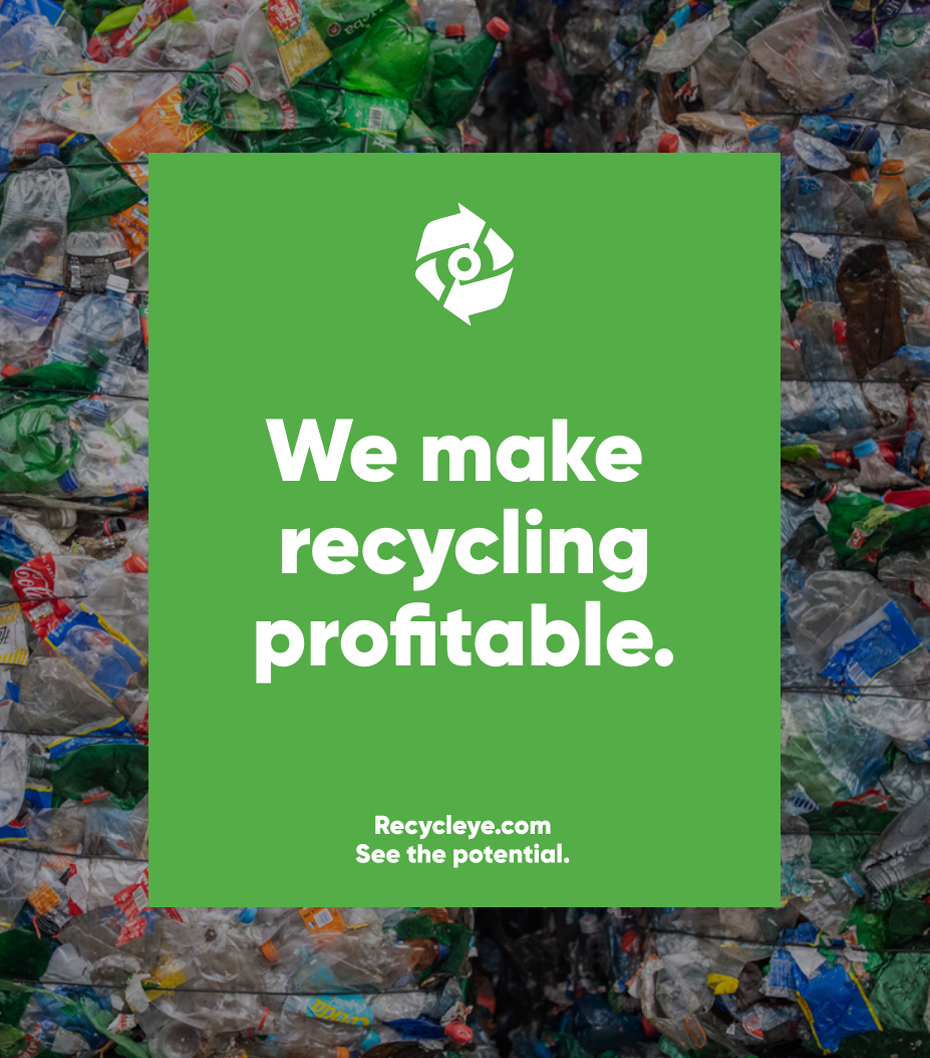 The company wanted to be able to communicate that potential and the real purpose behind its offer in a credible, instantly impactful way. With brand positioning that reflects its fast-tracked delivery of expertly tailored, yet cost-effective, data-driven technology, backed by installation services and maintenance support that provides an important personal touch in a traditionally slow-moving sector.
"Recycleye is accelerating the viability of waste sorting, materials recovery and subsequent recycling in a way that governments and international bodies just can't do quickly enough. They're not creating something for the future. They're making a difference right now – in a way that's very achievable. It's exciting to be a part of."
Michael Farish
Director, Design Motive
"Design Motive quickly demonstrated they fully understood what we wanted to achieve with our brand. This wasn't a cosmetic exercise, but needed to express our growth and maturity. They were focused and empathetic at every step, making sure that each aspect of the brief they delivered on was true to us and to our aspirations too. That resulted in them being able to illustrate that through storytelling and through visual identity in a very powerful way."
Sarah Willis
Head of Marketing, Recycleye